Godfrey Benjamin
XRP price up 4% in apparently volatile environment, hopes of gains for week still remain high
XRP has managed to sustain its price growth for the better part of this week and, at the moment, it is up by 4% at the time of writing with a trading price of $0.4629. The digital currency has showcased grit all week long despite irregular growth in the price of Bitcoin (BTC) within the same time frame.
XRP has remained the torch bearer for the most capitalized digital currencies in the industry over the past week, growing by 7.94% in the trailing seven-day period.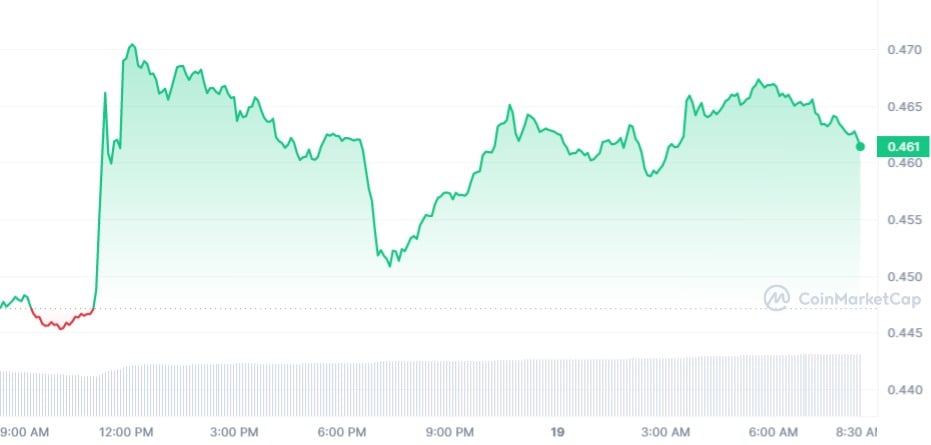 With the impressive performance put up thus far, the question of whether or not XRP will close the week in gains remains in focus, considering the volatility that has started creeping in.
Different cryptocurrencies have different rates of growth, with Bitcoin down 0.94% over the past 24 hours with its price breaching the major support line at $27,000. At the time of writing, the coin is changing hands at $26,951, with market observers focused on how the trend in the top coin can affect other cryptocurrencies, including XRP.
Despite the decoupling XRP has shown thus far, the chances its price might trail that of Bitcoin in the short term is high, and market participants should prepare for this.
XRP and basis for sustained growth
XRP has been able to shun its major woes to print an impressive performance for the better part of the first quarter, according to a recent Messari insight.
Per the data shared, the analytics service provider said key indicators point to an upswing in activity, with daily active addresses and daily transactions surging 13.9% and 10.7%, respectively. XRP has been able to maintain its relevance as a payment token across the board, a designation that has made it look past its soon-to-end legal battle with the U.S. SEC.