Information security is one of the most important concerns of business leaders worldwide. Businesses have to encounter different types of issues for on-premise data storage. Therefore,
decentralized storage
has emerged as a viable option for addressing the data storage and management needs of businesses. 
What is the importance of decentralization in storage? Cloud storage has come up with significant benefits in data storage, particularly for the benefits of scalability, simplicity, cost savings, security, and agility. The cloud storage market could achieve a market capitalization of almost $376 billion by 2029. With the help of cloud storage, users can save their data at any off-site location by using a dedicated private network connection and the public internet. 
On the other hand, a decentralized storage network has become a major necessity for businesses. Why? The centralized cloud storage models have a major design flaw with centralization. Storing essential business data in one place could provide control over the data to the host. The host could sell off the data to third parties without the consent of a business or users. On the other hand, network failure, cyber-attacks, and hardware failure could create risks for the security of information. The following post helps you learn about the decentralization of storage and how it works. 
Build your identity as a certified blockchain expert with 101 Blockchains' Blockchain Certifications designed to provide enhanced career prospects.
Definition of Decentralization in Storage
Decentralization refers to the distribution of control among all participants in a platform. You can find answers to "What is decentralized data storage?" without any complicated efforts in the term itself. Storage solutions that leverage blockchain-based decentralized networks are known for the decentralization of storage. 
Decentralization ensures that the data does not rest on a single server under central authorities. On the contrary, decentralization ensures data is stored across different nodes in a decentralized network. As a result, decentralization for storage could ensure better safety and reliability through safeguards for data against different types of errors and risks. 
Decentralized approaches to storage can also offer complete ownership of data to users. You can control the utility of the data in decentralized data storage systems rather than depending on third-party authorities for managing and storing data. Examples of decentralized storage systems include InterPlanetary File System or IPFS and StorX. 
IPFS is one of the renowned examples of decentralized solutions for data storage. It offers a peer-to-peer file storage network that enables decentralization in the storage, accessibility, and sharing of files. On the other hand, StorX provides the facility for secure encryption, fragmentation, and distribution of critical data through a global network of multiple hosting nodes. 
Working of Decentralized Data Storage
The best way to understand how decentralization works in data storage would be an example. StorX is an effective choice for learning about decentralization in storage. It provides the benefits of a decentralized storage network with additional benefits by design. Every file on StorX can be divided into different components before the encryption, followed by storage in independent storage nodes. The independent storage nodes are operated by different users throughout the world. You can notice another prominent highlight in the working of decentralization for storage mechanisms with the example of StorX. 
The StorX network features a collection of autonomous storage networks without any specific operator taking control of the data in the network. No single operator could wield disproportionate influence on the data storage network. Therefore, you can notice how decentralized storage blockchain networks can guarantee in-built measures for safeguarding users' personal data. 
Users can upload a specific file to the StorX network by using their login and password for the platform. Once the network receives the request, it creates a unique private key followed by ensuring encryption of the file. The segregation of the file into different fragments, followed by its distribution across independent nodes worldwide, is an improvement over traditional storage. As a matter of fact, decentralized cloud storage can leverage the benefits of improvement over conventional cloud storage options. StorX ensures redundancy by creating multiple copies of the data fragments, thereby facilitating round-the-clock availability of nodes. 
Start learning Blockchain with World's first Blockchain Skill Paths with quality resources tailored by industry experts Now!
Advantages of Decentralized Storage over Conventional Storage
The working of StorX provides a clear impression of how decentralized storage works. In addition, you must know the importance of private keys and login credentials for maintaining secure storage of important files through decentralization. Decentralization in storage systems such as StorX also brings in the concept of native tokens, such as SRX, for making the required payments. Data centers that have additional storage capacity are involved in the operations of storage nodes. The data centers offer proof of storage at regular intervals to the StorX platform. 
Another important highlight which can separate decentralized storage networks from centralized counterparts is the storage node reputation mechanism. StorX follows a storage node reputation mechanism through an AI-based application. The application maintains track of the storage nodes based on different crucial parameters. Some of the notable factors which affect the reputation of storage nodes include node efficiency, location, and quality. The storage node reputation mechanism helps in identifying the efficiency of storage nodes on the basis of server OS patches and updated security parameters. 
You can find the following benefits with decentralized cloud storage solutions in comparison to centralized solutions. The value of decentralization in storage systems involves an in-depth review of the following aspects.
Start your blockchain journey Now with the Enterprise Blockchains Fundamentals – Free Course!
One of the first things in favor of decentralization for storage is the assurance of safety from identity spoofing and restrictions. For example, StorX provides a secure decentralized data storage solution with over 4000 nodes spread all over the world. As a result, you don't have to encounter any issues in safeguards for data storage. 
In addition, the use of high-end hardware for storage nodes delivers promising results in the form of quality improvements. The facility of mapping publicly accessible data ensures that only data owners or people with access privileges can obtain the data in their accounts with private keys. 
The next vital reason to choose decentralized approaches toward storage is the facility of encryption. StorX provides the benefits of decentralized cloud storage along with AES-256 encryption standards for data fragmentation. Therefore, StorX can guarantee better security for data storage.
Better Performance and Speed
Decentralized data involves the fragmentation of a file into different pieces, which are distributed across different corners of the world. It is important to note that decentralized storage does not feature a single point of failure. On the contrary, it has the capability to address concerns of censorship and service downtime. 
The benefits of advanced cloud storage with the best-decentralized data structure and traditional cloud power make decentralized storage networks better than traditional cloud storage networks. For example, decentralized data storing systems such as StorX obtain data from the closest nodes. As a result, you can find the benefits of optimal speeds of data retrieval. 
Curious to learn about blockchain implementation and strategy for managing your blockchain projects? Enroll Now in Blockchain Technology – Implementation And Strategy Course!
How Can You Choose Decentralized Storage Systems?
The advantages of decentralization in data storage can offer crucial improvements over a specific organization or company. You can notice important highlights in answers to "What is decentralized data storage?" to learn about their importance. Decentralized and resilient data storage mechanisms can be available in the form of blockchain-based applications or peer-to-peer networks. Ethereum is one of the powerful examples of a decentralized storing system, particularly for storing the code of smart contracts. 
On the contrary, Ethereum cannot handle the large amounts of data that come along with scalability. Therefore, you need to be careful about choosing a decentralized solution for data storage, as you would require a solution that works for the long term. Here are the important things you should keep in mind while choosing decentralized storage blockchain solutions.
Incentive structure 

Data retention 

Decentralization 

Consensus 
Let us find out how each of these factors can help you choose ideal decentralized solutions for storage.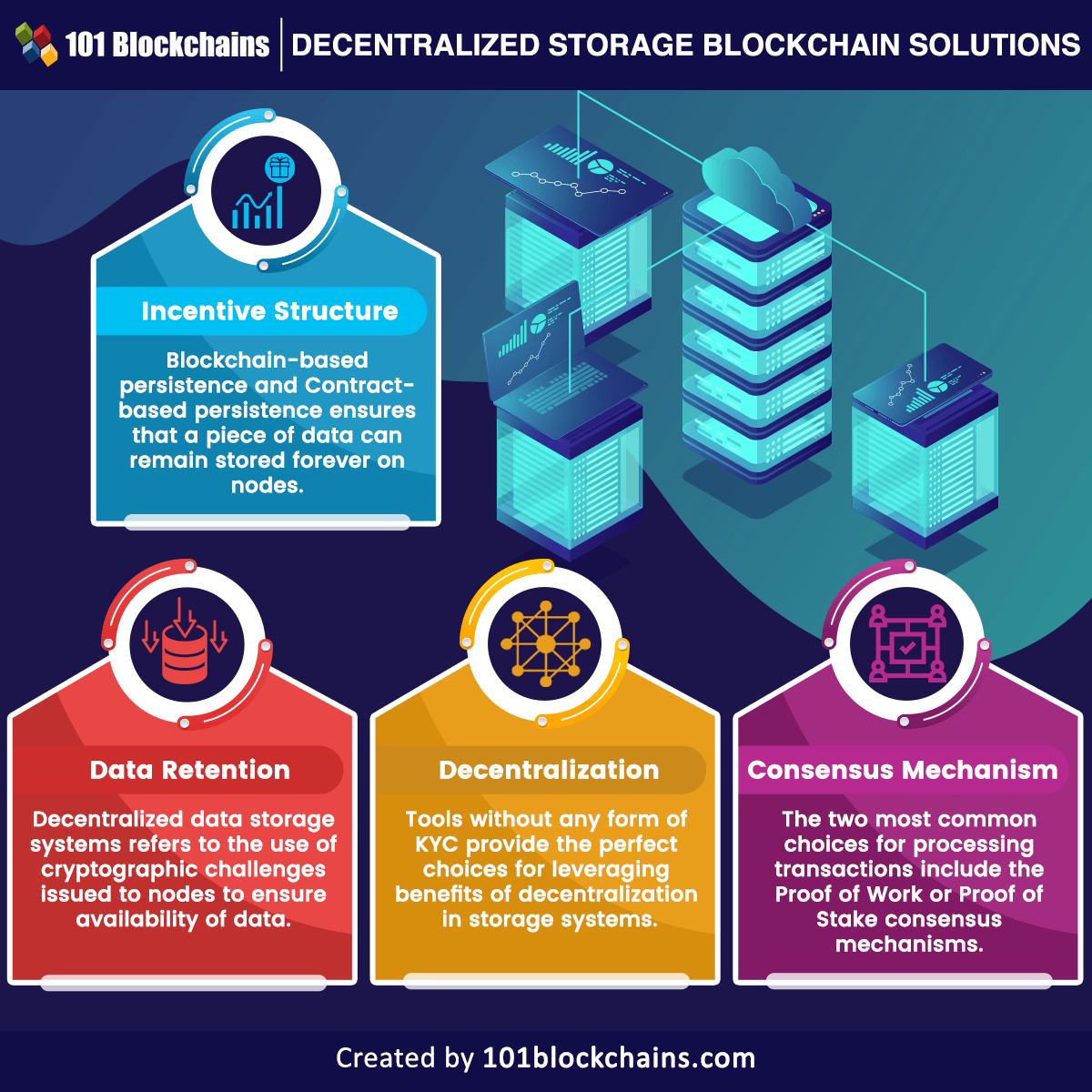 Please include attribution to 101blockchains.com with this graphic.   

Excited to learn the basic and advanced concepts of ethereum technology? Enroll Now in The Complete Ethereum Technology Course
The first thing you need to look for in a decentralized storage solution is the incentive structure or the persistence mechanism. You can come across two distinct types of persistence, such as blockchain-based and contract-based. Blockchain-based persistence relies on the persistence mechanism to ensure that a piece of data can remain intact forever. The persistence mechanism in the case of Ethereum refers to the need for considering the whole chain in the operations of a node. Blockchain-based persistence is available on Ethereum and features rewards for the validators. 
The second type of incentive structure or persistence mechanism in decentralized cloud storage refers to contract-based persistence. Contract-based persistence relies on the fact that data cannot be replicated and stored forever on nodes. Therefore, the storage mechanisms must go through comprehensive maintenance by leveraging contract agreements. The contract agreements refer to an agreement with different nodes which promise to store data for a specific period of time. It is important to refund or renew the agreements to ensure the persistence of data. 
Discussions regarding persistence and incentive structure in the selection of decentralized storage network solutions would point to the use of IPFS. It works as a distributed system for storage of files, data, applications, and websites alongside facilitating easier accessibility. 
The interesting thing about IPFS is the fact that it does not have an in-built rewards scheme. On the other hand, it provides the flexibility for use with contract-based incentive solutions to achieve long-term persistence. Furthermore, you must also know that the IPFS pinning service can help in ensuring data persistence on the IPFS network.
The factor of data retention also brings up some valuable concerns regarding the retention of data. One of the recommended methods for ensuring data retention in decentralized data storage systems refers to the use of cryptographic challenges issued to nodes to ensure the availability of data. The Proof of Access is an interesting example of a challenging mechanism for ensuring that nodes have data at the latest block as well as a random block from the past. 
Another vital aspect of choosing a decentralized cloud storage solution over a centralized platform would refer to the absence of KYC. Tools without any form of KYC provide the perfect choices for leveraging the benefits of decentralization in storage systems. 
Finally, you can review the decentralized storage network options according to the consensus mechanism they use for processing transactions. You can expect unique variations of the consensus mechanisms in storage tools. However, the two most common choices include the Proof of Work or Proof of Stake consensus mechanisms.
Aspiring to make a lucrative career as a blockchain expert but not sure how? Check the detailed guide Now on How To Become A Blockchain Expert
Conclusion 
The outline of the benefits of decentralization shows that storage mechanisms can achieve distinct improvements with blockchain. Interestingly, blockchain is not the only source for decentralization in storage. Examples of decentralized data storage systems such as StorX offer a glimpse into the ways in which you can utilize decentralization in data storage. With the advantages of privacy and security, decentralization in data storage could spell new avenues for transforming data storage mechanisms. Learn more about decentralized file storage alternatives and their distinct use cases in detail right now.