Fintech is an important highlight of the modern business and technology landscape. Every business is eager to adopt fintech and its benefits to score a competitive advantage over other players in the market. The
top fintech tools
which can make an impact on the industry would deserve the first priority in discussions about the future of finance. The applications of financial technology have been gaining a larger ground while enabling better accessibility. 
Users can choose fintech over conventional banking and payment systems administered by financial service institutions. It is important to note that the best fintech tools have played a crucial role in developing the fintech ecosystem. The new tools served a disruptive impact on financial services while ensuring formidable improvements in efficiency, accountability, and speed. Let us find out more information about the fintech tools which can transform the future of finance. 
Want to become familiar with Fintech and its working? Join Yearly/Yearly+ Plan and Enroll Now in Fintech Fundamentals Course!
Why Should You Worry about Fintech Tools?
The most obvious question on the minds of users and businesses in the field of fintech would be about the reasons to choose fintech tools. Fintech started gaining popularity as far back as 2016, with many users actively participating in the use of financial technology solutions. The outline of fintech products and services has been expanding continuously, thereby creating interest in learning about fintech tools. 
It is important to learn how fintech tools can ensure an effective foundation for fintech startups. As the career opportunities in fintech expand further, candidates would want to learn about the tools that could define the future of fintech. You can become a certified fintech professional by specializing in different types of fintech tools. 
Eager to know about important skills you need to become a fintech professional? Check the detailed guide now on The Most In-Demand Skills For Fintech
Popular Tools in the World of Fintech
Technological innovation and progress have been the pillars of the fintech industry and its exponential growth. Innovation provides the grounds for creating disruptive business models for financial services. It is important to note that the fintech tool list can help you learn about the advantages of each tool for improving fintech. Here is an outline of the top choices of popular tools in the domain of fintech.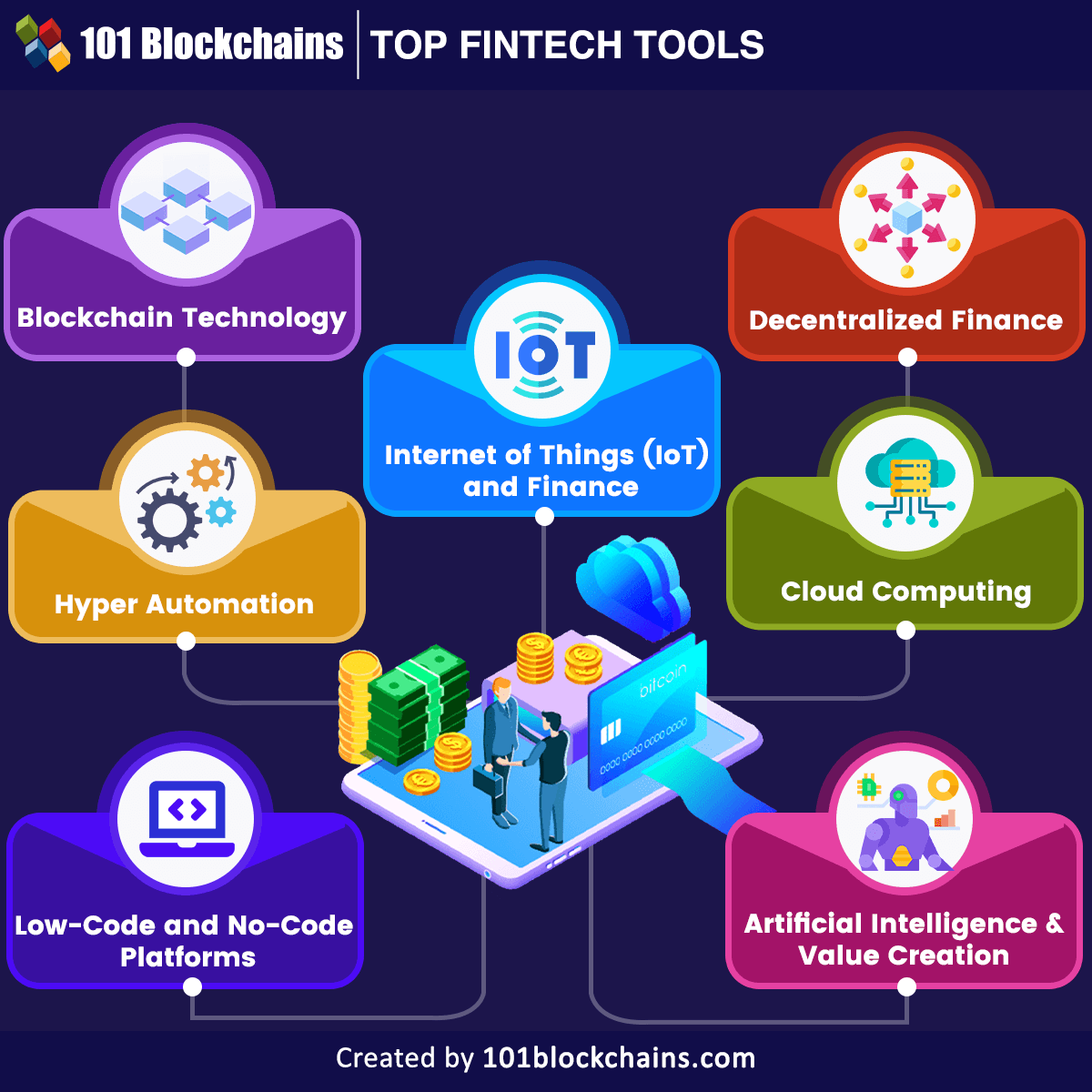 Please include attribution to 101blockchains.com with this graphic.   

The first edition among the top tools which would change the future of finance would refer to blockchain technology. The entries among popular fintech tools would be incomplete without referring to blockchain technology. Blockchain provides the opportunity for recording and distributing data throughout different data stores. In addition, it can enable easier documentation, sharing, and synchronization of data and transactions across a network of participating nodes. 
Distributed ledger technologies, or DLTs, have emerged as a viable option for transforming fintech with their unique value-based functionalities. The reputation of blockchain in improving fintech analytics tools would also refer to the applications of DLT for storing and transmitting data with security. Blockchain can provide safeguards for valuable fintech user data through algorithmic and cryptographic methods. You can use blockchain for recording and synchronizing the data throughout the network while also ensuring immutability. 
Distributed ledger technologies such as blockchain can become a major part of the future of finance. Blockchain can help in storing financial transactions at multiple places, thereby enabling better opportunities for ecosystem financing. At the same time, innovation with one of the top fintech tools, i.e., blockchain, would refer to examples of cross-chain technology, which can offer blockchain interoperability. Cross-chain technology can also offer solutions for sharing and transmission of data as well as value through different industries and processes. 
Build your identity as a certified blockchain expert with 101 Blockchains' Blockchain Certifications designed to provide enhanced career prospects.
Decentralized Finance, or DeFi, is one of the top tools which can transform the future of finance. It is an interesting example of the applications of blockchain technology in fintech. DeFi offers the best fintech tools which can help in transforming access to financial services. Decentralized applications for financial services can replace traditional intermediaries and provide support for easier and faster financial transactions. 
DeFi solutions would serve as major tools for transforming the fintech landscape, particularly with the assurance of freedom from intermediaries. As a result, it can enable easier access to loans and trading of financial products and investments without depending on financial institutions. 
DeFi is one of the best examples of popular fintech tools as it leverages deterministic smart contracts for eliminating counterparty risks. Smart contracts also help in reducing the costs required for finding intermediaries alongside improving transaction transparency and market efficiency. 
Want to learn and understand the scope and purpose of DeFi? Enroll Now in Introduction to DeFi- Decentralized Finance Course
The outline of important tools which could affect the world of finance also includes IoT or the Internet of Things. IoT has come up with some promising implications for defining a new generation of fintech products and services with an emphasis on financial transformation. The applications of IoT in fintech would involve three distinct layers, starting with the perception and smart sensor systems. The next layer would point to wireless communication networks, and then the third layer would point to operations support. 
In terms of smart sensor applications, RFID labeling is still working its way to achieving broader mainstream applications. Gradually, the arrival of new IoT communication solutions can help in expanding the scope of communication. It could provide an opportunity for creating new and popular fintech tools that could integrate seamlessly across different platforms. In addition, embedded systems alongside smart technologies can empower easier and more powerful intelligent communication among objects in financial IoT networks. 
The applications of IoT in finance could also help in catering to the needs of ESG governance considerations. Environmental, social, and corporate governance are the three important considerations for determining ideal actions for regulatory policies and investment strategies. The use of IoT as one of the top fintech tools would encourage progress in addressing ESG objectives with fintech. 
According to the ESG goals, countries have been coming up with plans for achieving broader use of renewable energy to reduce carbon emissions and adoption of carbon neutrality. Fintech businesses would look up to the ESG goals, which would rely on comprehensive monitoring and management of efficient industrial energy and power.       
Fintech can embrace IoT in multiple ways, such as indexing carbon trading to IoT measurements. In addition, IoT can also help in the accurate evaluation of risk portfolios, which can simplify and speed up the process of insurance underwriting and claims. For example, data on the behavior of drivers and how they use the car through IoT sensors can help insurers determine the premium payments for insurance. On top of it, banks can develop new products on the basis of tracking goods flow in trade finance to determine the opportunity to create new offerings. 
Want to understand the fundamentals of the Internet of Things (IoT)? Join Yearly/Yearly+ Plan and Enroll Now in IoT Fundamentals Course!
Hyper automation will also be one of the answers to your search for fintech analytics tools that can encourage business efficiency. It points to the introduction of deep learning, robotic automation, AI, and event-driven applications in one platform. Process automation can help companies rely on different technologies and tools for improving work automation skills and decision-making efficiency. 
Robotic Process Automation, or RPA, is one of the noticeable examples of tools that have proved successful in fintech. How? RPA has been useful in the fintech space for deploying software robots at scale in digital transformation initiatives. RPA works by focusing on the core function of allocating the management of workflow information alongside business interactions to robots. 
The core function of RPA can help in effective automation and standardization of business execution. You can determine the usability of fintech products and services with RPA by checking for clarity in code, stability, and better scope for repeating. In the long term, robotic process automation or RPA would be integrated comprehensively with AI, thereby serving complicated business scenarios.
The addition of RPA in a fintech tools list would point to how it has been serving different use cases in the middle or back-office operations. RPA can facilitate the automation of financial processes alongside providing the value of accounting reconciliation with financial institutions. 
For example, RPA in fintech would offer multiple use cases such as automation of accounting and settlement, work hour review, and adjustments. In addition, automation of the process for financial documentation provides exclusive benefits of replacing manual work. Hyper automation can help fintech businesses adapt to the changing demands of customers while reducing human errors. 
Aspiring to make a lucrative career as a Fintech expert but not sure how? Check the detailed guide Now on How To Become A Fintech Expert 
Cloud Computing Benefits for Fintech
The importance of cloud computing as one of the important tools in fintech would point to how it can support players in the domain of fintech. McKinsey has estimated that cloud technology would contribute to earnings amounting to more than $1 trillion for the top 500 companies in the world. The research reveals that popular fintech tools like cloud computing have a long-term impact on fintech. 
For example, cloud computing best practices can help in improving the efficiency of application development and maintenance. In addition, cloud computing can reduce downtime, lower costs, and technical violations alongside improving the cost-efficiency of the infrastructure. 
The applications of cloud computing can support improvements in platform integrity by leveraging embedded and automated security controls and processes. Cloud-based features focused on development, security, and operations can help in reducing technical risks. With the help of cloud computing, fintech businesses can access a cross-platform technology stack for consistent results. 
Some of the notable cloud computing trends for fintech would refer to edge computing and edge cloud alongside cloud containers. Edge computing would serve an integral role in transforming the adoption of fintech. For example, the growth of 5G communication has been driving favorable prospects for edge computing development. 
Container technology has also become one of the top fintech tools which can enable better efficiency through flexibility for running multiple workloads. At the same time, integration between AI and cloud computing, especially in areas of image and audio searching applications. Furthermore, the advantages of deep learning can encourage effective development in the value of fintech solutions. 
Curious to know different categories of interview questions for fintech jobs? Check the detailed guide Now on Top 20 Fintech Interview Questions And Answers
Artificial Intelligence and Value Creation
The domain of fintech could also capitalize on AI as one of the revolutionary tools. It is one of the popular fintech tools with the potential to generate massive value in the global banking industry. Financial institutions are likely to rely on AI-driven developments to stand up against their competition in the market. 
AI could help in improving the performance of financial service modeling, which could lead to radical improvements in the efficiency of fintech solutions. On top of it, semantic representation, graph computing, and knowledge graphs are promising examples of AI that would introduce new avenues in fintech. For example, knowledge graphs and semantic representation can help in identifying common patterns across different financial networks.
In addition, AI solutions in fintech could emerge as productive fintech analytics tools featuring better privacy protection. Privacy safeguards in fintech can encourage minimal usage of data or inclusion of relevant data in the process of training financial models. For example, federated learning has become one of the favorable choices for addressing privacy risks related to centralization of datasets. Advanced encryption, zero-knowledge proofs, and multi-party computing could provide new directions for consumer safety in fintech. 
Curious to learn about the value advantages of ZKPs for blockchain security? Join Yearly/Yearly+ Plan and get free access to Zero Knowledge Proofs (ZKP) Masterclass Course
Low-Code and No-Code Platforms 
The biggest entities which have a promising role in the future of finance would point at low-code and no-code platforms. As the name implies, these platforms help in creating applications with limited coding or no coding. Low-code and no-code platforms are the best fintech tools that can help in creating applications by leveraging a drag-and-drop interface. 
Users can rely on the graphical user interface for creating fintech apps rather than dealing with the complications of traditional programming. Companies can use low-code and no-code platforms to speed up the development of cloud-based fintech applications. 
Curious to know the important fintech terms and phrases? Check the detailed guide Now on Ultimate FinTech Glossary For Beginners
Conclusion 
The outline of the top tools which would affect the future of finance includes blockchain, AI, cloud computing, and hyper-automation. Each addition in the fintech tools list has a distinct value proposition for the world of fintech. For example, blockchain can improve user safety and privacy alongside empowering users. 
On the other hand, hyper-automation can improve user experiences through faster resolution of queries and issues. The review of the top fintech tools shows how fintech can transform the future of finance by presenting new ways of accessing and using financial technology. Learn more about fintech fundamentals and begin your journey of pursuing a career in fintech right now.
*Disclaimer: The article should not be taken as, and is not intended to provide any investment advice. Claims made in this article do not constitute investment advice and should not be taken as such. 101 Blockchains shall not be responsible for any loss sustained by any person who relies on this article. Do your own research!