Financial technologies or fintech is more than just a buzzword in the world of financial services. Users, as well as businesses, are catching up to the trends in fintech to become a part of the future of finance. The fintech market has been expanding at a fast pace in recent times, with new innovative advancements boosting the industry. Awareness regarding the
top fintech innovations
is standard practice for business leaders interested in exploring the advantages of fintech. The financial industry needs to go through a major makeover for various reasons, including the accessibility of financial services. 
Interestingly, the advantages of blockchain, automation, digital-only banking, and enhanced delivery platforms have offered formidable improvements in financial services. The answers to "What are the top fintech innovations?" can help you identify the significant points that would change the course of financial services. Let us learn about some of the noticeable fintech innovations and their advantages with examples in the following post.
Want to become familiar with Fintech and its working? Join Yearly/Yearly+ Plan and Enroll Now in Fintech Fundamentals Course!
Why Should You Learn about Fintech Innovation?
One of the most obvious responses to the question would point to how fintech itself is based on the foundations of innovation. Fintech is a radically expanding sector with the capability to reach almost $31.5 billion by 2026. The contributions of the most popular top fintech innovations have been useful in redefining the applications of technology in finance. Ten years ago, the discussions around fintech were restricted to the use of credit cards and the growth of online banking. Now, fintech has turned the focus towards critical aspects such as accessibility of banking services, safeguards from intermediaries, and censorship resistance. 
Fintech apps have emerged as one of the promising highlights in the blockchain and web3 space. For example, decentralized lending platforms have changed the narratives about loans. The power of fintech solutions is evident in the facility of obtaining a loan with decentralized or peer-to-peer lending platforms without relying on a bank. 
As the adoption of fintech grows further, it will provide new career opportunities. The growth of fintech would also induce promising levels of growth for technology underlying financial services and goods. Therefore, specialization in different areas of fintech could prepare you for lucrative roles as a fintech expert.
Build your identity as a certified blockchain expert with 101 Blockchains' Blockchain Certifications designed to provide enhanced career prospects.
Most Popular Fintech Solutions in 2023
The advantages of fintech applications have been one of the top priorities for businesses that want to grow in the field of fintech. Financial technology can become a prominent choice for businesses that want to streamline the ways in which they interact with customers. Here are the most popular innovations in the domain of fintech.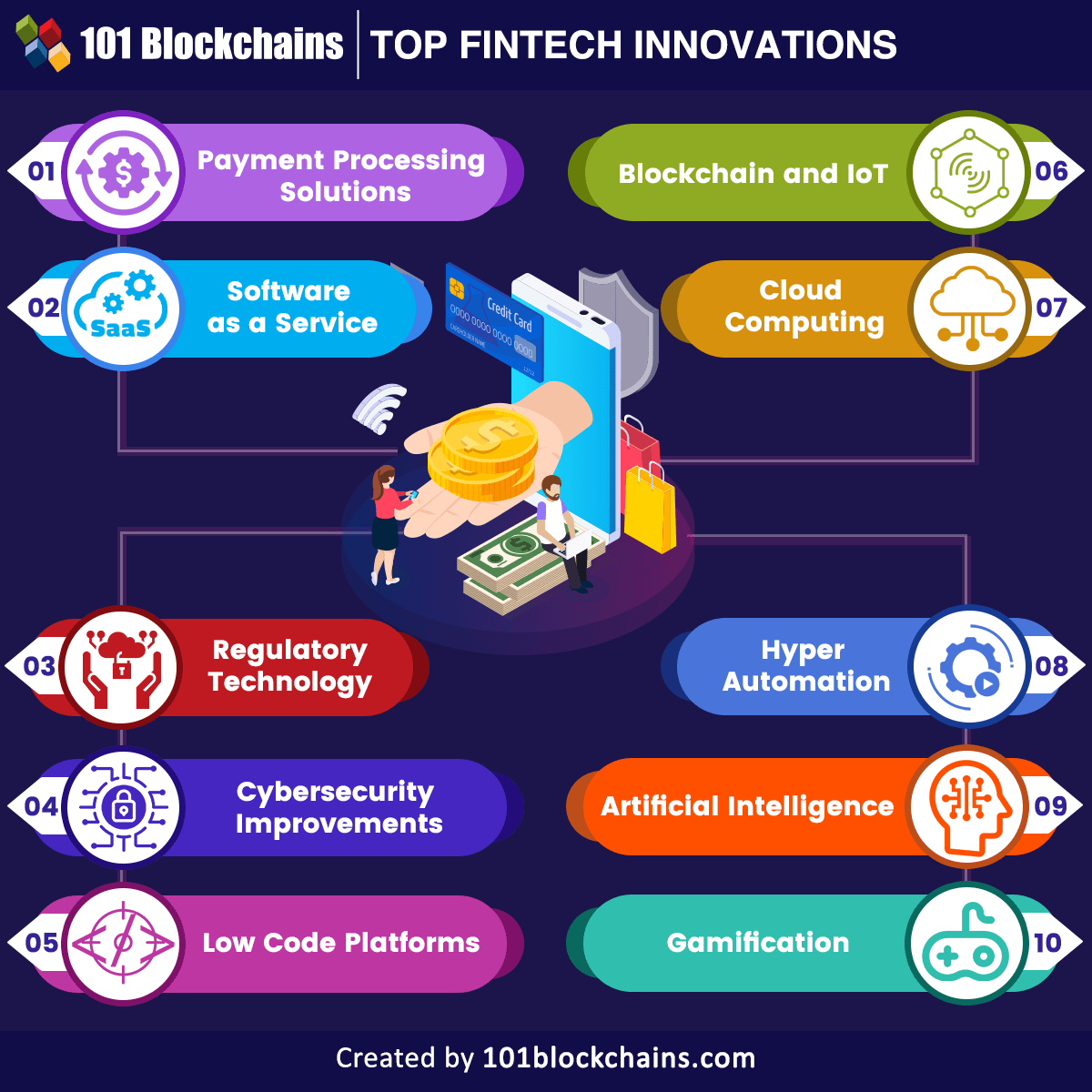 Please include attribution to 101blockchains.com with this graphic.   

1. Payment Processing Solutions
The most popular addition among fintech innovation examples points to payment processing solutions. Stripe and Venmo are the top alternatives among payment processing solutions that have garnered a massive user base worldwide. However, innovation in the field of fintech would also require the addition of effective techniques such as robust biometric identification for payment processing solutions. Payments for online purchases with smartcards and phones are a reality now. In addition, innovation in payment solutions also includes the integration of smart card chips with biometric verification. 
Financial service users can capitalize on payment solutions with two identifiers on their phones, which help in safeguarding payments through digital transactions. The outline of the most popular top fintech innovations would also highlight how biometric verification can include lock patterns, fingerprints, facial recognition, or voice control. 
The examples of such fintech innovations serve as a clear impression of how new advancements in fintech can secure the funds of users. Hackers could not steal the biometric credentials of users, thereby ensuring a higher degree of security, thereby boosting the confidence of users in fintech services. 
Eager to know about important skills you need to become a fintech professional? Check the detailed guide now on The Most In-Demand Skills For Fintech
2. Software as a Service
The next promising addition among the new innovations in fintech points at Software as a Service offering. It is one of the most notable fintech trends which aims at improving access to financial services. New businesses need speed and flexibility in the existing business landscape characterized by high competitiveness. Software as a Service has become an indispensable model for businesses experimenting with financial technology. 
Software as a Service, or SaaS, serves the advantage of efficient resource usage by allowing organizations to use software without investing in resources. For example, businesses don't have to operate their servers, thereby saving up a lot of time and energy. Serverless technology can provide a boost to fintech innovations by offering the value advantage of running software without the costs for application code and new updates. You can find fintech innovation examples of Software as a Service offering a free code base that could help fintech businesses in saving money. 
Aspiring to make a lucrative career as a Fintech expert but not sure how? Check the detailed guide Now on How To Become A Fintech Expert     
3. Cybersecurity Improvements
One of the notable concerns for fintech right now is the problem of cybersecurity. Hackers are capable of uncovering new vulnerabilities in fintech solutions, and professionals need to identify effective solutions for safeguarding crucial data. The data security best practices implemented in fintech have been falling short of their capabilities in safeguarding the funds of users. Therefore, innovative solutions such as multi-cloud data storage and decentralization are prolific recommendations for improving the cybersecurity posture of an organization.
Cybersecurity threats have been evolving, and fintech apps must stay updated with best practices for protecting user funds. On top of it, KYC and AML would also become prominent priorities for businesses. The effective implementation of innovative processes in cybersecurity for fintech businesses through a simple smartphone can encourage the widespread adoption of fintech applications.
Curious to know different categories of interview questions for fintech jobs? Check the detailed guide Now on Top 20 Fintech Interview Questions And Answers
4. Regulatory Technology 
The most noticeable area for innovation in fintech points to regulatory technology or RegTech. Fintech innovation would find new directions for growth in the domain of regulatory technology. The answers to 'What are the top fintech innovations?' would point to how regulatory technology or RegTech can revolutionize compliance. RegTech is one of the promising examples of innovation in fintech which can help financial firms in coping with the changing rules across different countries. 
Regulatory technology, or RegTech, will emerge as a major highlight for fintech by offering support for managing massive datasets. It can provide the assurance of accurate monitoring and timely reporting of compliance data. The importance of cybersecurity solutions for fintech and the implementation of RegTech would have equal priorities. One of the notable examples of top fintech innovations such as RegTech would refer to Drata. 
It is an effective tool for enabling monitoring services alongside data security. On top of it, it can help in addressing the concerns of automation for data compliance while also addressing the relevant regulations. The RegTech tool can help users in the identification of security threats alongside managing suppliers and catering to staff training requirements. It can also ensure that users are able to track security policies. 
Curious to know the important fintech terms and phrases? Check the detailed guide Now on Ultimate FinTech Glossary For Beginners
5. Low Code Platforms
The use of low code platforms would emerge as one of the prominent additions among examples of innovation in fintech. Developers can use such fintech trends for creating programs and applications based on graphical UI tools. Without the need for standard coding, low-code platforms can offer the advantages of easier development of fintech apps. Low code platforms would provide an effective solution for bridging the skill gap to help in understanding how to create fintech solutions. 
Faster development of cloud-based apps accompanied by effective automation of audit trails alongside documentation serve the benefits of innovation in fintech. Fintech startups can use low-code platforms to come up with new fintech innovation examples that can adapt effectively to new market dynamics. At the same time, you can imagine how low-code platforms can boost the number of fintech users. 
Eager to know the career roles and best practices for career development in Fintech? Check the detailed guide Now on How To Become Fintech Certified Expert?
6. Blockchain and IoT
The two most disruptive highlights among fintech trends would refer to blockchain and IoT. Blockchain has become one of the important choices among technologies for transforming the fintech landscape. At the same time, the outline of the most popular top fintech innovations can help you understand how IoT can also become a significant trend in fintech. The combination of blockchain and IoT has created the facilities for offering a new generation of financial services. IoT wealth management platforms could widen the possibilities for applications of banking and financial applications. 
The most important reason to choose blockchain technology is the importance of blockchain in facilitating security for user data. In addition, blockchain is open source, and decentralization makes it accessible to everyone. However, you don't have to worry about unauthorized manipulation of transactions or related data. Blockchain can offer better transparency of all actions of people in a financial services network. Blockchain makes sure that once you have uploaded the transaction to the network, there is no way you can change it or modify data. 
Smart contracts and blockchain technology serve a broad range of answers for your search to find efficient fintech solutions. The advantages of the top fintech innovations with blockchain have been noticed in DeFi applications. The future of banking would depend on secure and connected banking services which are available across different terminals. Fintech innovation in wealth management can serve promising results for security improvements. Therefore, blockchain can serve as a major milestone in the growth of fintech with prospects for gaining user trust. 
Build your identity as a certified blockchain expert with 101 Blockchains' Blockchain Certifications designed to provide enhanced career prospects.
7. Cloud Computing 
Another obvious candidate among the top technology-based innovations in the domain of fintech refers to cloud computing. Financial organizations have started recognizing the importance of cloud service models, with a specific emphasis on hybrid cloud architectures. The new generation of fintech solutions would have to rely on cloud computing as it can be tailored according to specific user requirements. Cloud computing can help banking service providers avoid problems with non-core operations such as data centers and IT infrastructure. 
On top of it, flexible access to desired storage and powerful computing services at lower costs can help fintech startups find a good start to their business. The use cases of cloud computing in fintech innovation have also prompted the rise of open banking and software-as-a-service models. Cloud computing offers flexible access to resources that can contribute to the easier growth of fintech startups. On top of it, cloud computing also provides support for improving communication among clients and service providers. 
Want to learn and understand the scope and purpose of DeFi? Enroll Now in Introduction to DeFi- Decentralized Finance Course
8. Hyper Automation
Hyper Automation is a favorable highlight in the domain of fintech and contributes to its long-term growth. It is a popular addition among fintech innovation examples considering the impact of robotic process automation. RPA can serve as a vital component of innovation in fintech by encouraging simpler and optimized business operations through easier chatbot integrations. 
Furthermore, the possibilities of integration between RPA and AI also imply favorable scope for innovation in addressing different use cases. For example, complicated business contexts, compliance, and faster service delivery become easier with hyper-automation.     
Want to explore in-depth about DeFi protocol and its use cases? Join Yearly/Yearly+ Plan and get free access to Decentralized Finance (Defi) Course- Intermediate Level Now!
9. Artificial Intelligence 
If there is any technology that has alarmed people all over the world, it is AI. Artificial intelligence would support the future of fintech and companies which want to use the value of intelligent technology. The integration of AI as one of the fintech trends can help in creating sophisticated algorithms which could examine credit profiles within a few seconds.
The use cases of AI can help in ensuring better risk management, improved customer experiences, lower risk of loan default, and better efficiency of processes. Chatbot advisors are one of the prominent examples of AI use cases in fintech. At the same time, you can look up the popular example of IBM Watson, which helps with financial analysis. 
10. Gamification
The final addition among the fintech innovations would refer to gamification, which has expanded by a significant margin in recent times. Gamification has become a major concept across different sectors in fintech, such as consumer banking, insurance, and banking. Financial organizations can use fintech solutions with points-based games or challenges where users collect points for earning rewards. 
Start learning Decentralized Finance (DeFi) too with World's first DeFi Skill Path with quality resources tailored by industry experts Now!
Conclusion 
The outline of innovations in the fintech sector showcases how fintech is only in the initial stages. You can notice different types of fintech innovation examples, such as decentralized exchanges, P2P lending platforms, and DeFi apps. On top of it, RegTech also qualifies as an important fintech innovation. 
The advantages of the different fintech innovations show the path to the future of fintech. In the long run, fintech would bridge the gap between customers and financial services at their fingertips. Learn more about fintech fundamentals and become a fintech certified professional now. 
*Disclaimer: The article should not be taken as, and is not intended to provide any investment advice. Claims made in this article do not constitute investment advice and should not be taken as such. 101 Blockchains shall not be responsible for any loss sustained by any person who relies on this article. Do your own research!