Yuri Molchan
Shiba Inu price has shown massive surge along with big rise in SHIB burn rate
As the Shiba Inu price skyrocketed within the past 24 hours, the SHIB army has shown a lot more activity in moving SHIB dog-themed coins to dead wallets over the same period of time, raising the SHIB burn rate quite significantly. Nearly all 341 million of the burned SHIB coins were moved out of the circulating supply for good in a single move.
SHIB burns jump nearly 7,000%
Data obtained from the website of Shibburn explorer shows that within the period of the last 24 hours, the burn rate of Shiba Inu coins has seen a mind-blowing increase, surging by 6,936%. As it happened, a comprised stash of 341,504,230 SHIB has been burned.
Most of the burned amount was transferred to a dead-end wallet in a single transaction, which carried 252,873,213 canine coins, by an anonymous wallet. The second largest lump of SHIB burned in the past 24 hours contained 84,405,747 Shiba Inu.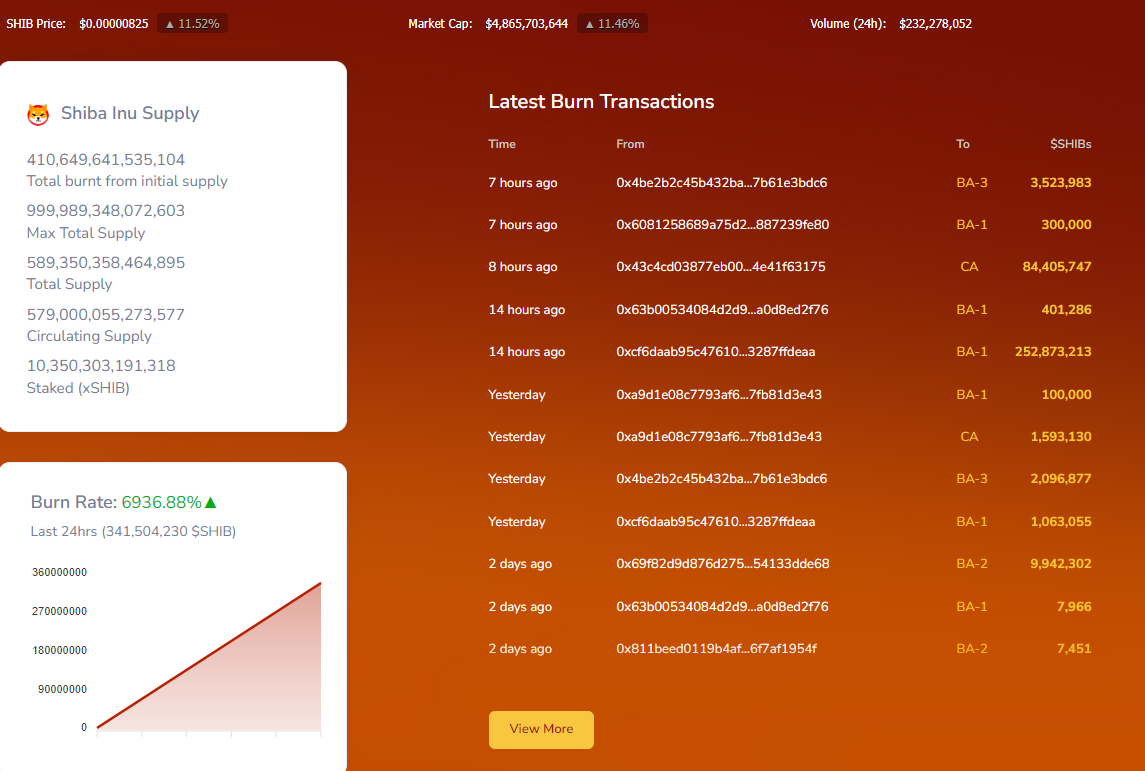 Over the past few days, the SHIB burn rate was in the red zone, dropping from -50% to nearly -100%, sometimes lower, with the amounts of burned SHIB ranging from a few million to fewer than a million meme coins.
Shiba Inu price spikes
Over the past 24 hours, the price of the second largest canine crypto by market cap, SHIB, has demonstrated a staggering rise of slightly more than 13% — it jumped from $0.00000727 to the $0.00000822 price mark.
SHIB's growth was first of all caused by the Bitcoin price jump above the $30,000 level on the back of the news about the recent launch of the EDX exchange by Wall Street giants, as well as by the fact that BlackRock and Invesco both applied to launch a Bitcoin ETF.
Aside from that, pseudonymous leader of Shiba Inu Shytoshi Kusama made an announcement, spreading the word about several new updates related to the Shiba Inu ecosystem.
Among them are the upcoming release of the "Worldpaper" (a comprehensive guide to the SHIB ecosystem) and a partnership with Champion Apparel to produce SHIB-themed merchandise. This is a venture set up by the Shibcals team.
The surge of Bitcoin and the crypto market, in general, has also touched on the recently trending meme coin (no dogs, but frogs this time) PEPE — its price surged by roughly 38%.