Arman Shirinyan
Diminishing institutional inflows and dwindling hopes for Bitcoin ETF approval spell potential bearish trend for Bitcoin
Bitcoin's price dynamics have been the subject of immense speculation and interest, with the world's largest cryptocurrency often experiencing wild price swings. However, recent data may offer some cause for concern for Bitcoin holders and investors.
The cryptocurrency has slipped below the 50 Exponential Moving Average (EMA), a key indicator often used by traders to determine market trends. This development signals a potential bearish phase for Bitcoin.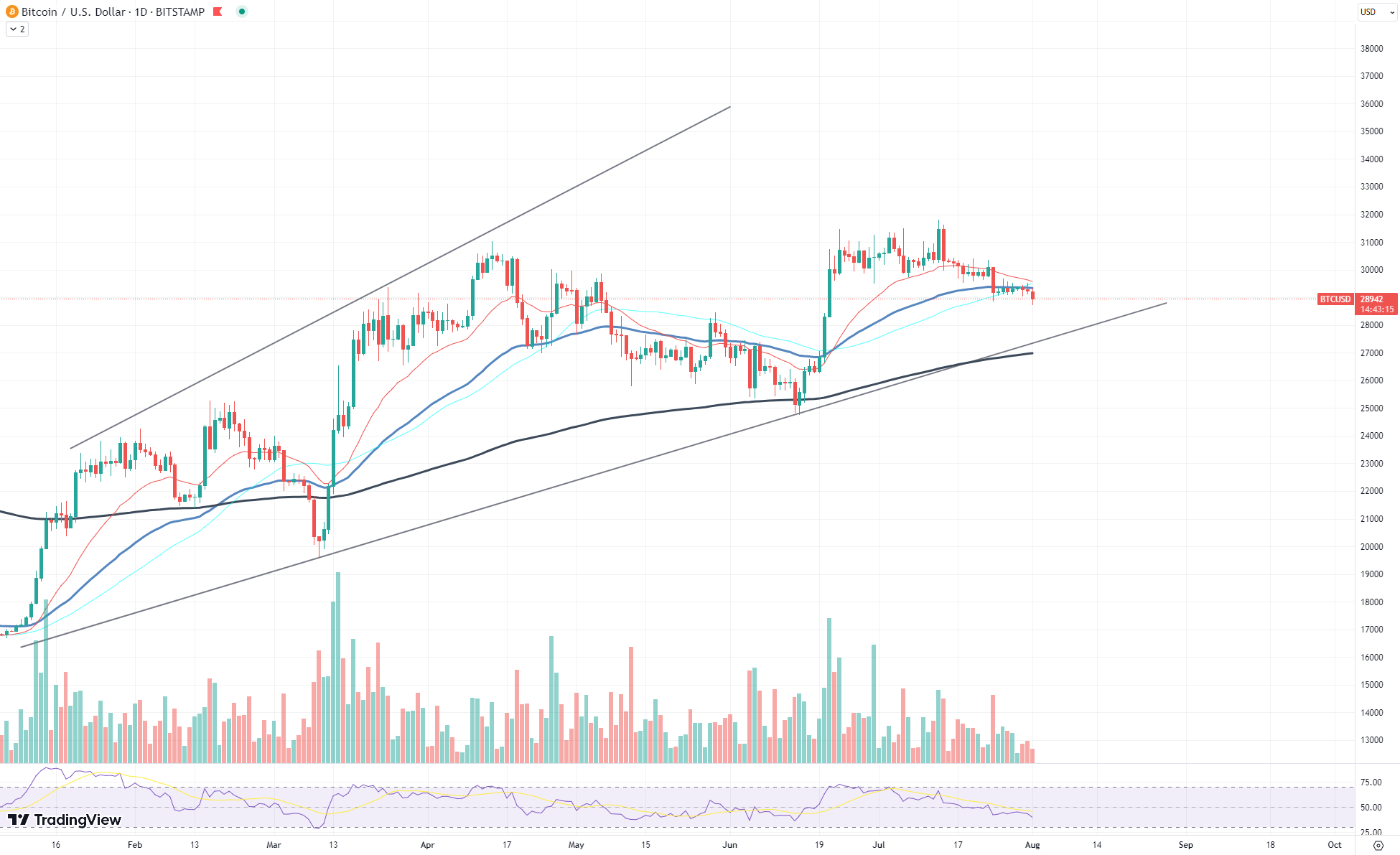 Next on the horizon is the substantial support level provided by the 200 EMA. If Bitcoin dips below this level as well, it could potentially see a substantial drop toward $27,000, a level not seen since January 2021. The lack of any upward drivers at the moment only adds to the potential for such a bearish scenario.
Adding fuel to the fire, the Bitcoin network is experiencing a drop in inflows. This could indicate a lack of new investors or a pause in investments from existing holders, both of which are necessary to maintain price stability or trigger positive price movement. A decrease in network inflows is often a sign of diminished market interest and can lead to a drop in price.
Moreover, trading volumes, a significant indicator of market activity and investor interest, are also on a downtrend. This reduced trading activity often precedes a price drop and suggests bearish market sentiment.
Institutional investors, who have been a significant driver of Bitcoin's growth in recent years, are also appearing to halt their inflows into the Bitcoin network. This trend aligns with the market's dwindling expectations of a Bitcoin ETF getting approved soon, a development that has been anticipated by many as a major potential bullish catalyst for Bitcoin.
In conclusion, while it is impossible to predict with absolute certainty, the data suggests that Bitcoin could potentially be headed for a significant price drop. As always, it is crucial for investors to stay informed and make decisions based on a careful analysis of market conditions.