As the blockchain segment is recovering from the severe Crypto Winter of 2021-2022, protocols of various spheres are introducing their tools to Web3 newbies. Here's why this is crucial to highlight the fun and profit opportunities available for newcomers with no previous experience in crypto.
EZZY Game, a multi-platform move-to-earn and play-to-earn ecosystem, prioritizes an intuitive user experience to lower the barrier to entry for newcomers in cryptocurrency gaming.
EZZY Game, "easiest move-to-earn and play-to-earn game," unlocks amazing opportunities for crypto newbies: Highlights
Launched in November 2022, EZZY Game promotes itself as the most newbie-friendly product across the move-to-earn and play-to-earn scenes.
EZZY Game is an immersive blockchain-based game with virtual sneakers;
It merges the benefits of play-to-earn and move-to-earn mechanics;
With EZZY Game, professional athletes and amateur sports fans can earn money for their activity through virtual sneakers;
EZZY Games' tokenomic design is based on native governance and utility token EZY, which can be purchased via Binance Coin (BNB) and U.S. Dollar Tether (USDT) directly in the application;
The project has already amassed over 110,000 users as of May 2023;
To onboard Web3 newcomers, the EZZY Game team launched a trial campaign with free sneakers.
As such, EZZY Game introduces an amazing world of modern move-to-earn to all categories of crypto enthusiasts with no regard to their background or deposit sizes.
What is play-to-earn?
In the cryptocurrency sphere, play-to-earn is a class of blockchain-based applications designed to allow crypto holders to earn through interacting with gamified protocols. Simply put, play-to-earn (or P2E) apps are video games that somehow use blockchain technology for rewards or business logic.
Namely, play-to-earn apps can accept starting deposits and distribute prizes in cryptocurrency assets. At the same time, they can also use blockchains to transfer in-game objects, to mint the results of tournaments and so on.
The play-to-earn segment rocketed to prominence in 2021. At this time, Decentraland (MANA), The Sandbox (SAND) and Axie Infinity (AXS) are the most popular play-to-earn applications.
What is move-to-earn?
Move-to-earn is a subclass of decentralized applications (dApps) where people can earn rewards for their physical activity. Typically, prizes in cryptocurrency are distributed for jogging, hiking, climbing or doing simple fitness exercises, as these activities can be easily tracked remotely through smartphone apps.
Often, these apps integrate non-fungible tokens (NFTs) as core mechanisms for user identification and maintaining complex gaming mechanics. Tokenized sports footwear (sneakers) became symbols of the move-to-earn segment that rallied in 2021-2022 despite an overall crypto recession.
How to earn with move-to-earn apps: Three ways
Besides a fancy design and immersive gameplay, modern move-to-earn apps can be a reliable source of income for crypto enthusiasts. Here's how ordinary players with basic skills in crypto can benefit from using move-to-earn apps.
Getting rewards for activity: This method is the simplest one; players can just get periodic payouts for performing predetermined tasks. For instance, with move-to-earn apps installed, players can get 100 tokens for walking 10,000 steps per day over the next week.
Trading NFTs: As the majority of move-to-earn applications leverage NFTs, experienced users can get them and trade within the applications or via third-party marketplaces like Blur or OpenSea.
Native tokens: Trading, lending/borrowing, yield farming. With move-to-earn apps, crypto users can benefit even without playing or walking. They just can buy M2E tokens on exchanges to either sell them higher, inject them as liquidity into DeFi protocols or collateralize them to get USDT or BTC.
Introducing EZZY Game, easiest move-to-earn platform
EZZY Game, a high-performance application for smartphones, invites a new generation of crypto enthusiasts to experiment with virtual sneakers and grab EZY rewards for being physically active or playing games in app.
EZZY Game: Basics
EZZY Game is an M2E (move-to-earn) and P2E (play-to-earn) game with integrated Web3 elements. It was launched at the bottom of the bearish market in November 2022. EZZY Game is set to provide the easiest move-to-earn experience for all digital token enthusiasts.
Image by EZZY Game
The EZZY Game is available for free from both App Store and Google Play, two major digital marketplaces. Immediately upon installation, users can start getting rewards in two ways.
Newcomers can start training by jogging at a speed of two to twenty kilometers per hour. The first rewards are assigned within 10 minutes. Also, EZZY Game players can start with an entirely virtual experience: they can catch coins for 10 minutes and also be rewarded with EZY tokens.
The EZZY Game team has always stressed that its product is not a clone of Stepn, Step App or other mainstream move-to-earn games. Its gaming mechanics are unique and much easier than those of competitors.
EZZY Game: Earning with virtual sneakers
As we mentioned before, EZZY Game virtual tokenized sneakers are a backbone element of EZZY Game gameplay and the most accessible way to boost one's earning strategy on the platform. The sneakers can be purchased directly in the application in its Factory module.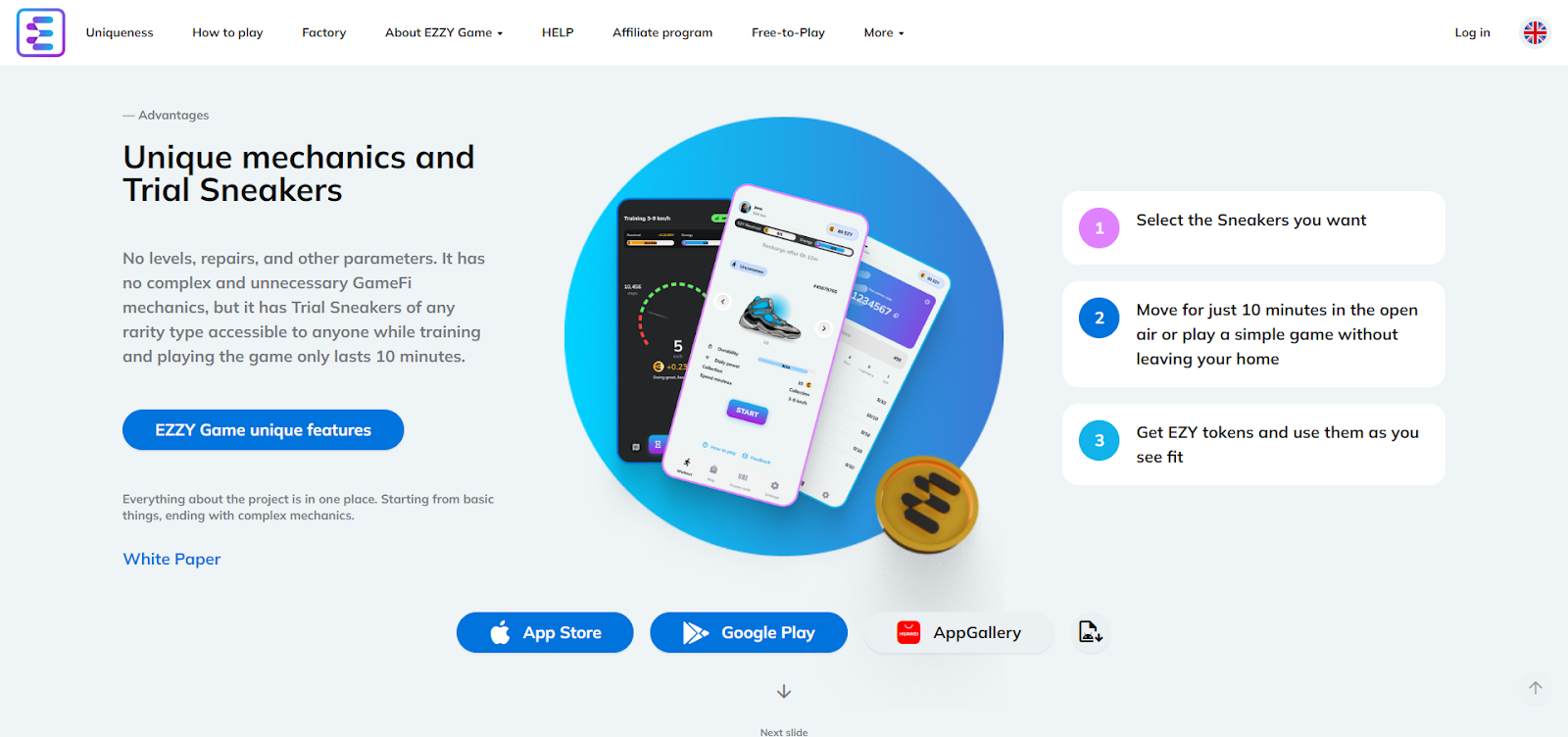 Image by EZZY Game
Users can spend $30 minimum on sneakers. Once they are purchased, users can get a 10% token bonus in 10 days or a 30% bonus on a monthly deposit if it is reinvested.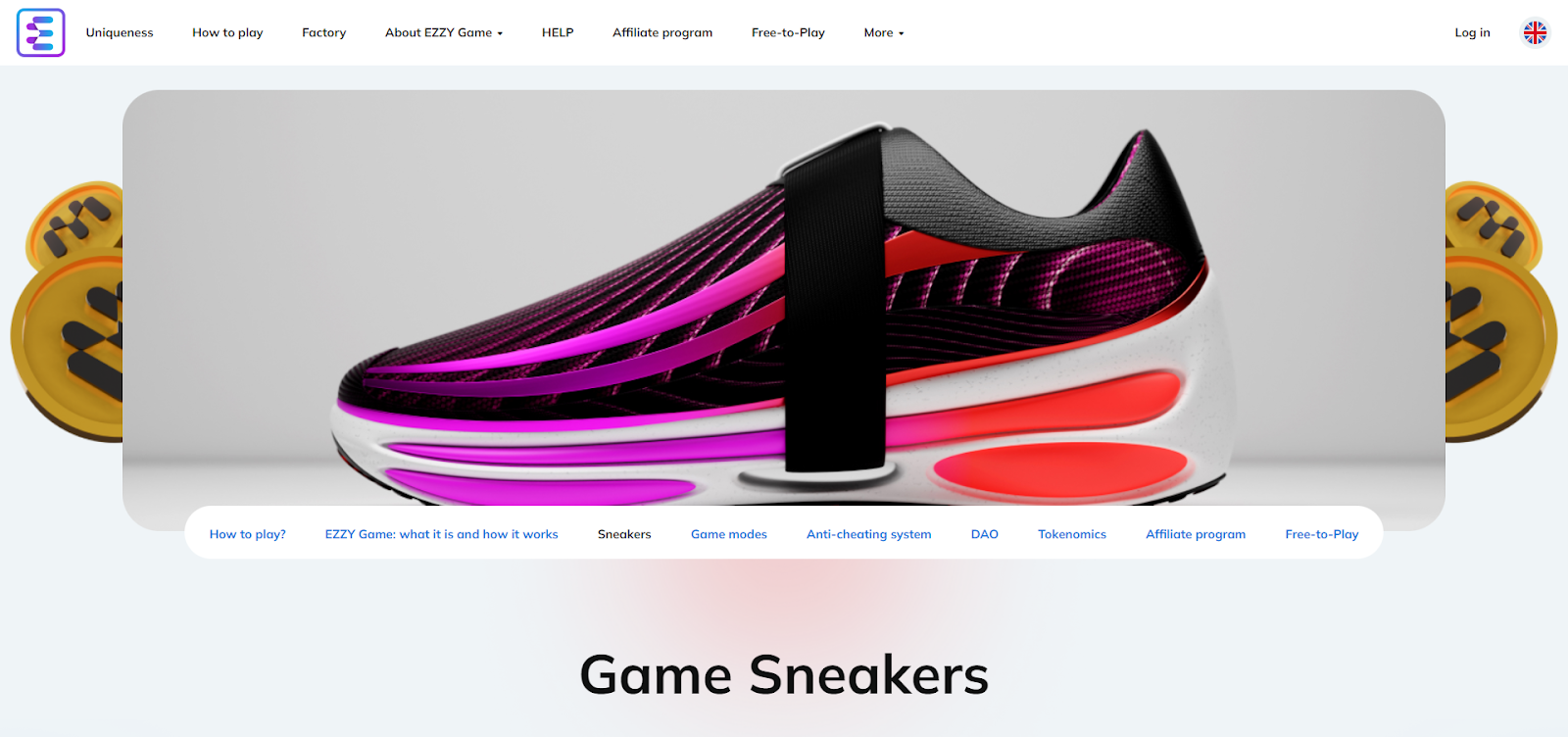 Image by EZZY Game
Namely, when a user buys sneakers at the Factory for EZY tokens, walks and/or plays for 10 days, he or she gets the amount invested and 10% on top. After that, the sneakers become inactive and the player needs to buy new ones. The cycle can be repeated an unlimited number of times; the user can buy as many sneakers as he or she wishes.
EZZY Game: BSC-based utility token EZY
EZY, a cryptocurrency token on BNB Smart Chain (BSC), the cheapest EVM-compatible blockchain, is the second pillar of EZZY Game's tokenomics. This asset is used to pay out rewards to users and to support community programs in the application.
The token can be purchased within the application with U.S. Dollar Tether (USDT), the largest stablecoin, and on decentralized exchanges PancakeSwap (CAKE) via USDT and BNB, respectively.
Thanks to the balanced tokenomics of EZY, its price has fluctuated within the $0.055-0.06 corridor during almost its entire period of public tracking on CoinMarketCap and CoinGecko.
Users can request their EZY rewards at any time; the tokens can be withdrawn to both centralized (Binance) and on-chain (TrustWallet, MetaMask) wallets.
EZZY Game: Limited free trial sneakers campaign live
As the EZZY Game is focused on bringing millions of users to move-to-earn, it introduced a free-to-join trial campaign with free sneakers. This option is designed to introduce EZZY Game's gameplay to newcomers.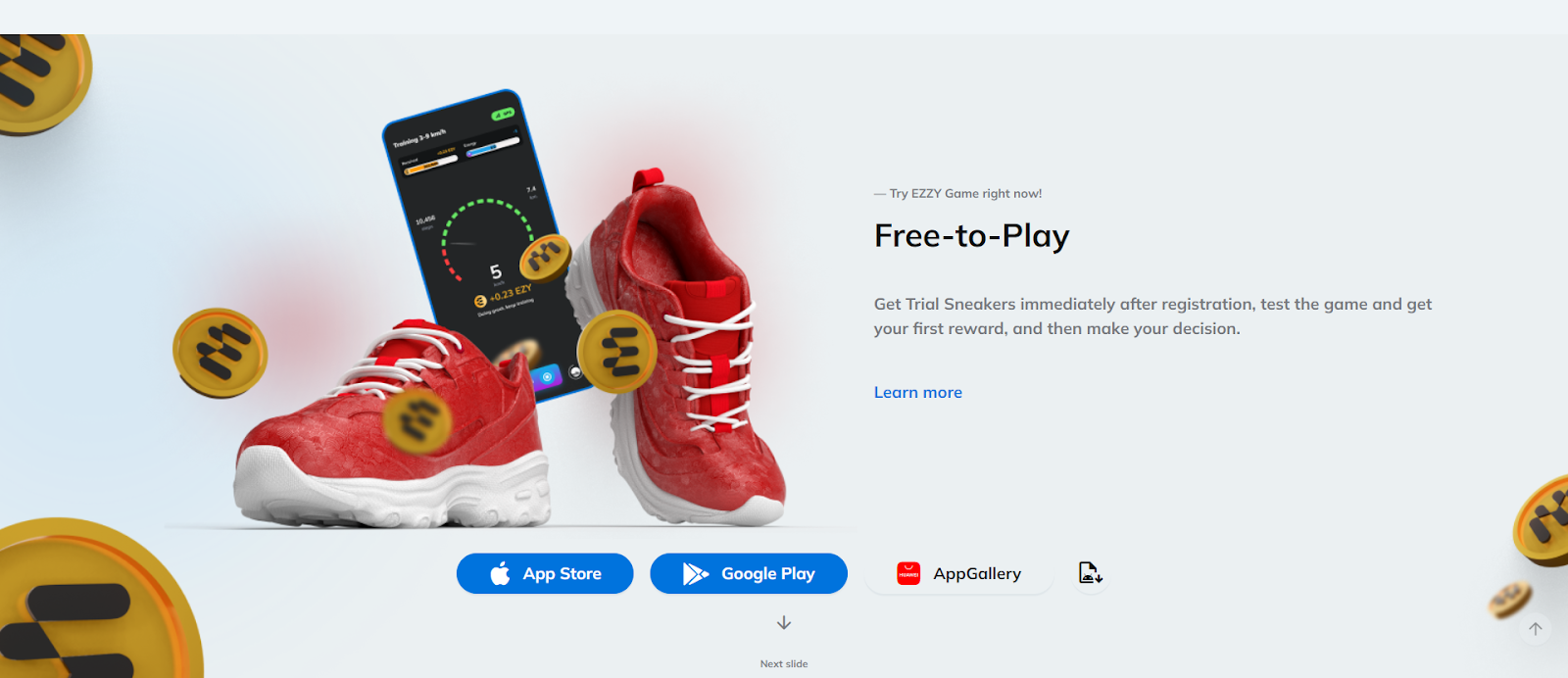 Image by EZZY Game
Trial sneakers can be claimed immediately upon registration. With trial sneakers, all instruments of the full-fledged version of EZZY Game app are available. 
Also, to spread the word about the application and its opportunities, the EZZY Game team launched a referral program. Users can share their personal promo code to invite followers and friends to the EZZY Game and get free sneakers for it. For every 10 pairs of sneakers purchased by his/her referrals, an owner of a promo code gets one pair as an affiliate reward.
Wrapping up
To sum up, EZZY Game is an amazing play-to-earn and move-to-earn game designed to make the playing experience easier for users with basic skills. It shares EZY rewards when users walk. To join EZZY Game, newcomers need to purchase virtual sneakers within the application.
In May 2023, the EZZY Game team held a trial sneaker campaign: everyone can get a pair of test items to experiment with all functions of the EZZY Game app. Also, a referral program is available for EZZY Game players.