Web3 has signaled the beginning of a new wave of change and transformation in technology. The career opportunities in web3 have shown exponential growth in recent times, specifically due to the advantages of long-term career development. One of the most popular job roles in web3 is that of a
web3 security engineer
or cybersecurity professional. If you have decided to become a web3 security professional, then you must clear your doubts about the career path. 
First of all, you may wonder about the need for cybersecurity in web3. Why does web3 need security when it has blockchain technology and other cryptographic techniques? The burden of security threats on web3 has been escalating by significant margins due to the increasing adoption of web3 solutions. The following post offers you a guide to pursuing the career path of a web3 security professional.
Fundamentals of Web3 Security
The basics of web3 security are the essential requirements for beginning your journey of a career in the same field. You cannot pursue a career in web3 security without familiarizing yourself with the fundamentals of the same. First of all, you must know that web3 security depends on blockchain technology, which inherently provides a layer of security. Blockchain follows the principles of consensus, cryptography, and decentralization, which can build credibility for web3 transactions. 
The structure of a blockchain involves multiple blocks chained to each other in a consecutive fashion with the help of cryptographic hashes. Blocks in the blockchain feature one specific transaction or a combination of transactions. The web security engineer skill outline would require you to have a clear understanding of blockchain architecture. 
With the help of consensus mechanisms, blockchain networks ensure decentralization, as there is no single point of failure. At the same time, a specific user could not make any changes in the content of blocks. However, the security implications for blockchain would differ according to the type of blockchain and desired use case. 
Build your identity as a certified blockchain expert with 101 Blockchains' Blockchain Certifications designed to provide enhanced career prospects.
The Necessity of Web3 Security Engineers
The interest in web3 security engineer jobs is not the only factor that should encourage you to pursue a job in web3 security. You must understand how web3 also features vulnerabilities that could affect the users associated with web3. Blockchain technology delivers a strong safeguard against security issues with an immutable ledger of transactions. On the other hand, they cannot guarantee complete immunity from cybersecurity threats. Malicious actors can look for new vulnerabilities in the web3 applications, which take care of millions of dollars of funds for the users. 
You need to find the best ways to land up with the benefits of a web3 security engineer career path. As a security engineer for web3 projects, you can lead the charge against security issues that could affect the value of web3. In the long run, security professionals would become major additions to the web3 job market. 
While you can find many jobs in web3 security right now across different platforms, the demand for web3 security will increase radically in the future. Did you know that web3 security risks can affect NFTs, DeFi apps, and DAOs? Therefore, web3 security experts would be one of the strategic priorities in teams that work on web3 projects. 
What Are the Roles of Web3 Security Engineers?
The term 'web3 security' generalizes the task of a web3 security professional. You need to know that you can capitalize on many job roles as web3 security experts. Here is an outline of the renowned job positions which have made a mark in the domain of web3 security.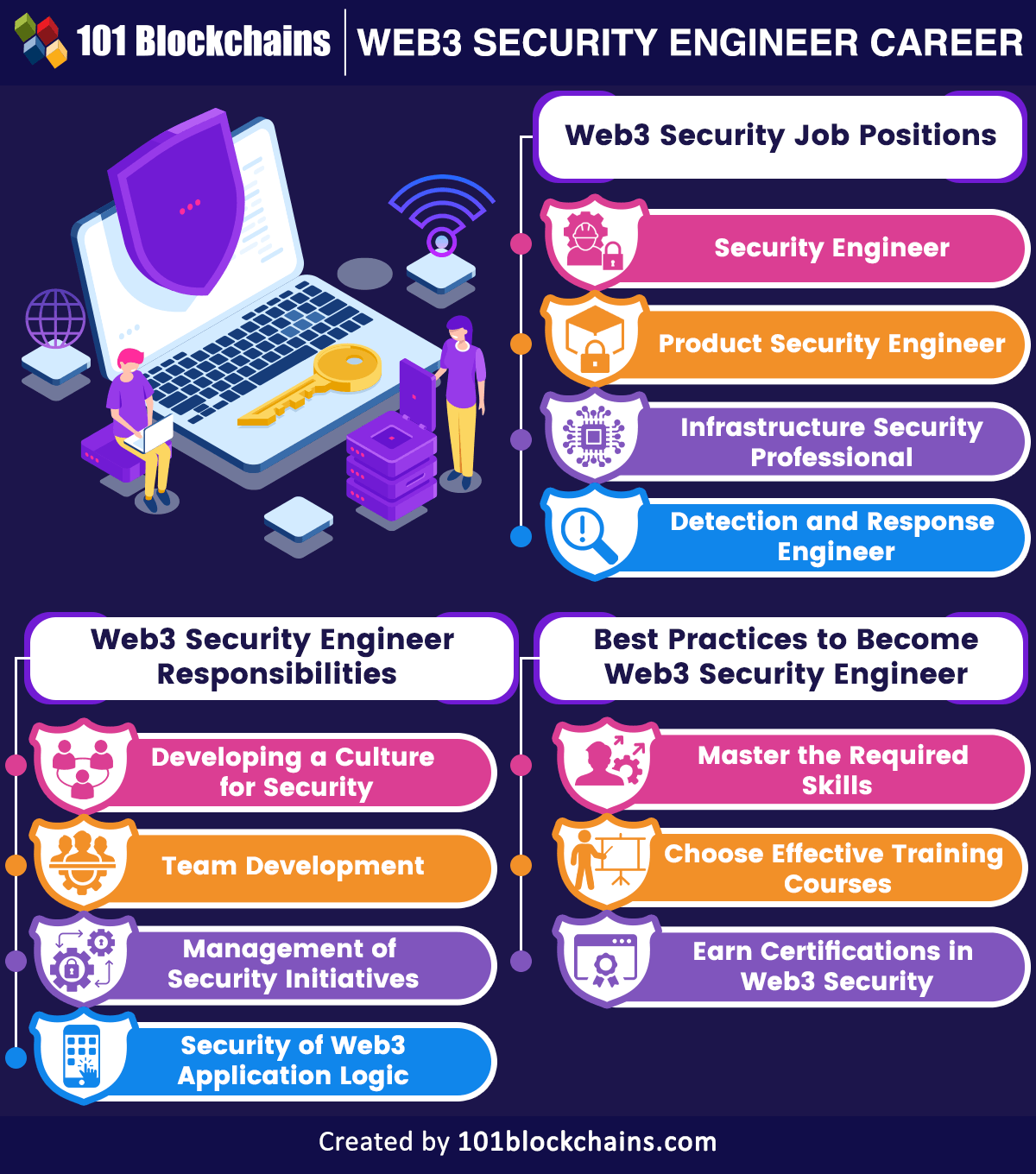 Please include attribution to 101blockchains.com with this graphic.   

Security Engineer
The first and most common role for individuals seeking information about web3 security engineer salary would point at security engineer roles. Web3 security engineers have to understand the best practices for information security in web3 solutions. Blockchain technology and web3 applications have led to a formidable rise in the number of decentralized financial institutions. 
Web3 also plays a crucial role in increasing economic inclusivity alongside improving the global financial system. The role of a web3 security engineer focuses on maintaining information security across different areas. You can find two prominent roles as a security engineer in the domain of web3. Here are the two prominent job roles you can pursue in the field of web3 security.
Product Security Engineer
The senior-level roles for web3 security professionals would include the product security engineer role. The answers to "How much does a web3 security engineer earn?" would focus on the types of jobs in web3 security. As a technical leader in information security, the product security engineer has to take responsibility for the web3 project security. 
The product security engineer should have the skills to deliver in-depth threat models for different products and services. In addition, the responsibilities of a product security engineer also involve compliance with stringent standards for the implementation of controls for detecting and preventing security risks. Furthermore, web3 product security engineers would also work in collaboration with the technical leaders in operations and engineering teams.
Curious to develop an in-depth understanding of web3 application architecture? Join Yearly/Yearly+ Plan and Enroll Now in Web3 Application Development Course!
Infrastructure Security Professional
The next prominent job role in the domain of web3 security would point to the job of an infrastructure security engineer. You need to identify how web3 security engineer skills and knowledge requirements would guide you to your desired job roles in web3 security. Infrastructure security engineer roles can serve as your gateway to career opportunities in web3. 
The responsibilities of infrastructure security focus on safeguarding the infrastructure of web3 projects while helping them scale according to their desired objectives. Infrastructure security engineers take on the responsibilities of creating strategies for deploying IAM solutions and safeguarding all environments of a web3 project. In addition, the infrastructure security engineer should also detect vulnerabilities alongside following the required patching process.
Build your fluency in Web3 and develop decentralized solutions with the world's first Web3 Expert Career Path with quality resources tailored by industry experts Now!
Detection and Response Engineer
Another job role in web3 security also draws attention to the possibility of working as a detection and response engineer. The detection and response team for a web3 project focuses on fighting against external as well as internal threats. As a detection and response engineer, you can expect a lucrative web3 security engineer salary estimate. However, you should also prepare for the skills required on the job to respond to security threats. 
For example, you must learn the best practices for developing a data pipeline and triggers for detecting security risks. On top of it, a detection and response engineer must have the skills and knowledge for the automation of incident response pathways. Most important of all, detection and response engineers in web3 security should also know how to develop solutions for collecting and analyzing data in security breach incidents and related investigations. 
Learn the fundamentals, challenges and use cases of Web3.0 blockchain from the E-book: AN INTRODUCTION TO WEB 3.0 BLOCKCHAIN
What Do You Have to Do As Web3 Security Engineers?
The outline of important categories of job roles for aspiring web3 security engineers provides many answers to the question. For example, you can understand how the work of a product security engineer is different from that of an infrastructure security engineer. However, you must have some concerns regarding web3 security engineer jobs, like the responsibilities you have to address as a professional. Irrespective of the differences in roles, web3 security engineers have to take care of a few common tasks. Here is an outline of the general responsibilities of web3 security professionals or engineers.
Developing a Culture for Security
The foremost responsibility of security engineers in web3 is to build a culture of security. Over the course of your web3 security engineer career, you will learn about different best practices for web3 security. At the same time, you would also develop specialized skills in different tools for web3 security. 
You have to communicate and share your knowledge regarding web3 security with other team members. In addition, you should always coordinate with engineering teams, founders, and other business teams to ensure the security of web3 products. The tasks of developing and managing a culture of security would also include public bug bounties alongside flexibility for maintaining relationships with external partners such as web3 security audit firms. 
Curious to know whether web 3.0 will play an important part in the future of the internet? Check the detailed guide Now on The Insane Future Of Web3 
The responsibilities of web3 security engineers also point to the need for specializing in team building skills. Web3 security professionals must work on selecting key members for the security team of a web3 project. If you are the first hire for web3 security in a project, you have to take complete responsibility for building the security posture of the project.
Management of Security Initiatives
The benefits of web3 security roles are evident in answers to "How much does a web3 security engineer earn?" and the long-term career development opportunities. However, you must also notify the complexity of responsibilities associated with the role of security engineer in web3. 
Apart from developing the web3 security team and fostering a culture around web3 security, you need to manage security initiatives. You have to work in collaboration with third-party vendors and audit firms to define and manage security initiatives such as smart contract audits and bug bounty programs.
Security of Web3 Application Logic
The most crucial highlight among the responsibilities of web3 security engineers would point at securing web3 application logic. Web3 includes applications that are similar to traditional applications in many ways. On the other hand, web3 logic has a different design and demands special safeguards against scams, phishing attacks, and CI/CD pipeline attacks. In addition, you might also have to work on developing security management functionalities in the web3 solutions. Web3 security professionals must ensure that the web3 application logic stays free from vulnerabilities. 
Curious to understand the complete smart contract development lifecycle? Join Yearly/Yearly+ Plan and get free access to the Smart Contracts Development Course Now!
How Can You Become Web3 Security Engineer?
Web3 security engineers are an inevitable addition to the web3 workforce as they play a crucial role in encouraging trust in web3. However, you need a strategic path for a career in web3 security with the help of credible training resources. The information about best practices for becoming web3 security professionals in the following steps can help you with your career development. 
Master the Required Skills
The first thing you would need to become a web3 security engineer would refer to the skill requirements. Identify the type of skills you need to learn for web3 security. The skills for web3 security engineers would include an in-depth overview of the fundamentals of web3 security, such as cryptography. You can learn about cryptography fundamentals and understand how smart contracts work to build your knowledge about web3 security. 
Start learning Smart Contracts and its development tools with World's first Smart Contracts Skill Path with quality resources tailored by industry experts Now!
Choose Effective Training Courses
The most important requirement for building your career as a web3 security professional would refer to training. You need to choose reliable training courses that could help you learn about web3 fundamentals and all the related concepts. In addition, you should focus on learning about web3 concepts such as NFT fundamentals and DeFi basics. You should also learn about the fundamentals of security for web3 solutions such as DeFi and NFTs. 
Earn Certifications in Web3 Security
The demand for pursuing a career as a web3 security professional also implies that you would find many competitors for one job position. On the contrary, you can stay ahead of the competition with a web3 security certification. Your plans for a web3 security engineer career path can turn into reality with a trusted blockchain security certification. 101 Blockchains offers a Certified Blockchain Security Expert certification, which you can use for building a career as a web3 security expert. However, it is important to check the certification and how it can serve valuable advantages to your career. 
Want to get an in-depth understanding of non-fungible tokens (NFTs)? Join the Yearly/Yearly+ Plan and get free access to NFT Fundamentals Course.
Conclusion
The detailed overview of the important pointers for becoming a web3 security engineer provides everything you need to develop your identity as a web3 security expert. However, blockchain and web3 security imply the necessity for professionals to work on their understanding of the fundamentals of blockchain security. 
For example, web3 security professionals must have a clear impression of how smart contracts and web3 solutions work. On top of it, you must worry about the necessity of choosing platforms that can offer valuable career advantages in web3 security. You should check whether the concerned web3 security courses and certifications are. Learn more about the different training courses and certification programs to help you become a web3 security expert right now.
*Disclaimer: The article should not be taken as, and is not intended to provide any investment advice. Claims made in this article do not constitute investment advice and should not be taken as such. 101 Blockchains shall not be responsible for any loss sustained by any person who relies on this article. Do your own research!