Vladislav Sopov
Blockchain Whispers, global cryptocurrency community and trading signals channel, merges the benefits of reliable analytics with up-to-date news and easy-to-navigate crypto newsfeed
Blockchain Whispers introduces a reliable source of cryptocurrency price predictions (trading signals); its platform includes a crypto information portal and channel in Telegram Messenger.
Blockchain Whispers offers accurate crypto trading signals for newbies and pros
Launched in early 2018, Blockchain Whispers is a veteran crypto trading signals community. While every crypto bullish rally unlocks a new generation of such services, not all of them are able to sustain painful recessions.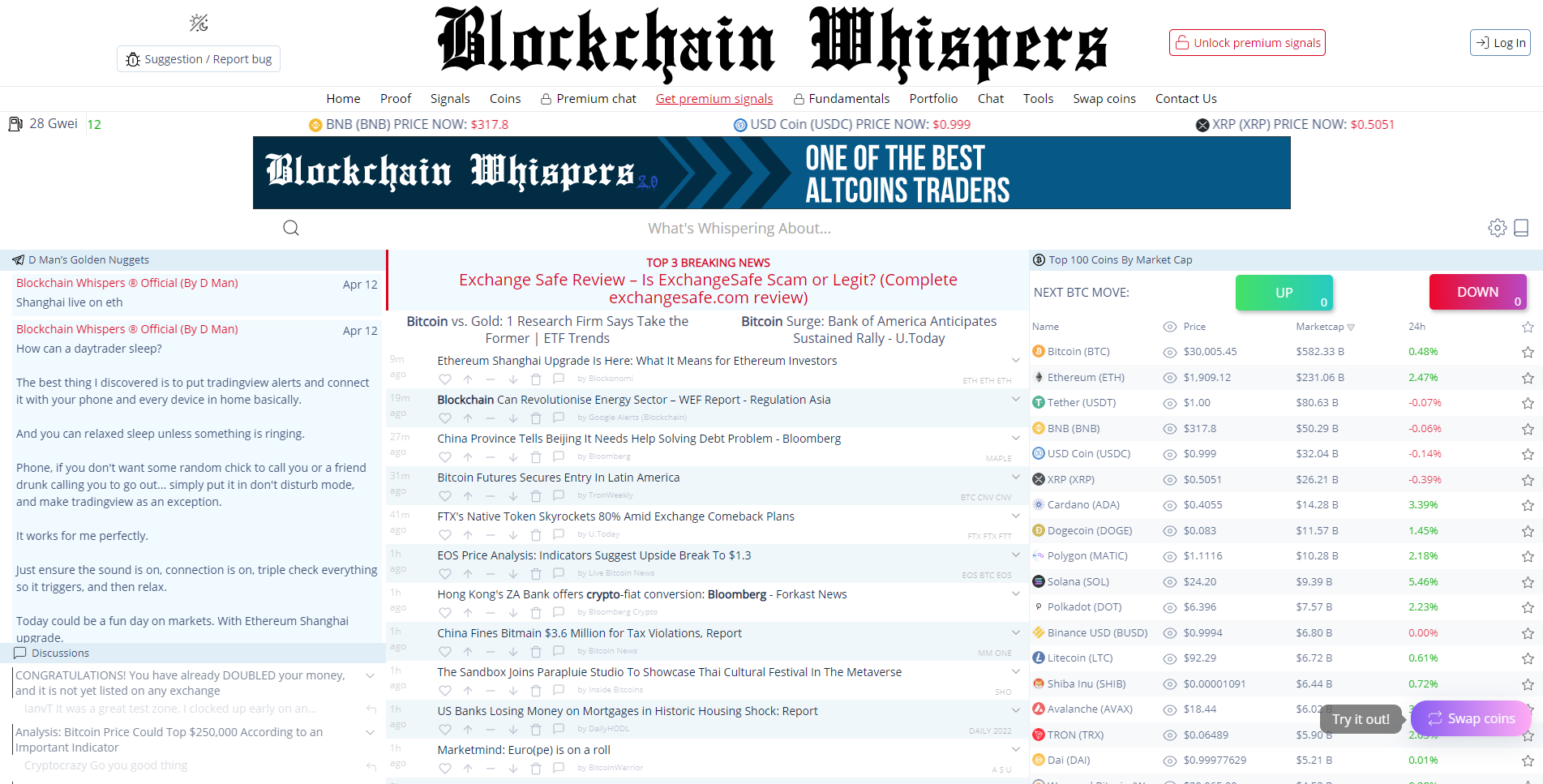 Blockchain Whispers addresses the sphere of crypto trading signals, i.e., cryptocurrency price predictions that include accurate "Buy" and "Sell" recommendations for this or that digital asset. Typically, trading signals are published for Bitcoin (BTC) and mainstream altcoins: Ethereum (ETH), Litecoin (LTC) and XRP,  i.e., for cryptocurrencies with the largest market capitalization.
The ecosystem of the project is based around its main portal, Blockchain Whispers — a popular website with trading content — and a number of trading challenges. The largest of them, Blockchain Whispers ® Official (By D Man), is followed by almost 100,000 Telegram users.
In Q1, 2023, Blockchain Whispers' official website was visited by almost 100,000 Internet users monthly. At the same time, the net audience of its Telegram channels eclipses 180,000 accounts, which makes it one of the largest trading signals ecosystem in crypto.
Trusted newsfeed and trading information in unified interface
All information in the main Telegram channel and official website is provided 100% free of charge. However, to unlock access to premium content — followers can either buy one of two paid subscriptions, or opt in for D Man's Macro report which is a one-time purchase.
D Man's Macro Reports are very insightful for traders with no regard to the level of their previous expertise in blockchain and cryptocurrency. With these reports, traders can advance their understanding of macro market processes on both the crypto and stock markets.
Besides Bitcoin (BTC), Ethereum (ETH) and other major altcoins, Blockchain Whispers' pseudonymous author, Mr. W, provides detailed recommendations on how to find "hidden gems" in the NFT segment. 
Mr. W is a top analyst when it comes to finding the most favorable airdrops, NFT releases, and promising under-the-radar tokens for long-term investing strategies. He also successfully guides his members with spot calls and macro views. Monthly membership for Mr. W content is available at 0.009 BTC.
Another key figurehead of Blockchain Whispers, Mr. P,  is an analyst who accurately predicts the crypto market's day-to-day moves. Even though he mainly focuses on daily trading and futures signals are his passion, he also accurately predicts bigger moves and shares his spot calls. Content by Mr. P is available for subscribers with 0.045 BTC monthly membership fees.
On Blockchain Whispers, traders can easily interact with each other and read the latest news on crypto price dynamics, the largest transactions, much-anticipated technical releases and so on.
Without leaving the service, traders can read news by the largest media outlets on crypto and blockchain, check out crypto prices dynamics for 100 largest coins and read comments by D Man, a founder of the website and leader of its community.
Meeting point for traders' community
In a "Discussions" dashboard, traders can comment on each other's trading ideas, discuss the latest announcements and so on. Also, traders can swap their crypto without leaving the application.
Most experienced traders can chat with each other in the Premium chats and Fundamentals module. For all previous signals, the administration of the service released "Proofs," i.e., tamper-protected verified feedback and confirmations of prediction validity.
The Blockchain Whispers team highlights that it is promoted as the only signal group that never accepts money for recommendations. As such, every asset mentioned in signals is a promising one for traders and investors.